Recent News
March 2021 - Ghost Of Tsushima Wins 14 Awards, Including Game Of The Year From NAVGTR!
October 2020 - Ghost of Tsushima Legends, Now Available!
June 2020 - Ghost of Tsushima, Coming Soon!
In the late 13th century, the Mongol empire has laid waste to entire nations along their campaign to conquer the East. Tsushima Island is all that stands between mainland Japan and a massive Mongol invasion fleet led by the ruthless and cunning general, Khotun Khan...
January 2020 - Gears of War Omnibus vol. 2 Now Available!
Gears of War Omnibus, Vol. 2
Two Gears of War comic book series are collected in this special omnibus edition. First, as the Pendulum Wars rage on, Marcus Fenix and his right-hand man Dominic Santiago are deployed on their first military tour and must endure the harsh reality of battle, loss, and the waning hope of victory...
June 2019 - Gears of War Omnibus Now Available!
Gears of War Omnibus, Vol. 1 by Joshua Ortega | PenguinRandomHouse.com
Defeat the Horde! The comics saga of the best-selling video game series begins here. Discover what happens in the wake of the original game...
April 2018 - Phantom Compass and Joshua Ortega Join Forces for Transmedia IP Development
ONTARIO, Canada: 24 April, 2018 - Boutique Canadian game studio Phantom Compass has today announced a partnership with transmedia pioneer Joshua Ortega (Gears of War, Star Wars, The Other Dead) to co-develop a slate of boundary-breaking IP.
April 2018 - Boss Key Productions takes Battle Royale gaming to Radical Heights!
Donít let Radical Heightsí success surprise you!
Read what Jeff Grubb has to say about this!
March 2018 - What's Joshua Been Up To?
Joshua Ortega is wrapping up work on a new, unannounced video game, and is also writing his next novel, a television pilot, and consulting on a new AR/Mixed Reality project. In the meantime, check out some of his past work, and look for more updates here soon!
| | | | |
| --- | --- | --- | --- |
| The Necromancer | Queen Sonja | ((Frequencies)): A Novel | Tales from Neverland |
Nov 2017 - Law/Breakers Now Available! Gravity-Defying Combat, Rise or Fall!
The highly anticipated All-Star Update includes Boss Leagues, two new maps, time-limited Blitzball-themed Stash Drops, and more!
Nov 2017 - Auto Age: Standoff now available on PC and Steam!
Nov 2016 - New LawBreakers concept art... gravity shall never be the same...
July 2016 - LawBreakers now available for Wishlist on Steam!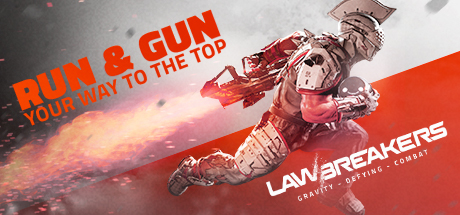 Beat gravity into submission in LawBreakers, an exhilarating role-based First Person Shooter where the laws of physics can be shattered, creating unprecedented gravity-based combat in an ever-evolving bloody arena.
Release Date: Summer 2016
June 2016 - Auto Age: Standoff!
In the bright but distant future, the recovery of New America rests in the hands of wheeled warriors. Will you side with the sinister Dark Jaw or intrepid Val Vega? Customize your killer ride and go head to head in 80s-style car combat. Gear up, team up, and roll out!
January 2016 - LawBreakers!

LawBreakers, previously known under the codename BlueStreak, is an upcoming video game developed by Boss Key Productions and published by Nexon.
Watch the Announcement and Gameplay trailers and brace yourself!
Designer: Cliff Bleszinski
Developer: Boss Key Productions
Publisher: Nexon
Genres: First-person shooter
Modes: Multiplayer video game
Platform: Microsoft Windows
Gears of War 4
Xbox One Exclusive - Coming Holiday 2016
December 2014 – Animal Planet Developing The Other Dead Scripted Series!
Animal Planet Developing 'The Other Dead' Animal Zombie Scripted Series!
Animal Planet is the latest cable network to dip into graphic novel fare, optioning the zombie animal story "The Other Dead" to be developed as a scripted series.
Read the full article on Variety!
June 2014 – The Other Dead Hardcover Now Available!
The first six issues of the critically acclaimed horror series The Other Dead are now available in hardcover! Find it at your local comic shop or your favorite online retailer...here's your chance to get the complete Zombie Animal™ epic and find out what the buzz is all about!
April 2014 - The Other Dead Continues Its Infectous Growth!
Exciting news: The Other Dead #6 is now available, with the hardcover collection coming soon!
"How has this brilliant premise not been done yet? Just when we're inundated with "zombie this, zombie that," Ortega, Digger, and Eastman come along with a rip-roaring adventure that provides the most unique spin on the zombie apocalypse in years."
–Cliff Bleszinski
Creator of Gears of War

"The Other Dead has the perfect combination of action, emotional impact, and brooding/building horror. I kept turning the pages to run from the impending doom."
– Kevin J. Anderson
New York Times bestselling author of the Dan Shamble, Zombie P.I. series.

"Gleefully gory and subversive with snark–the only problem with this book is that I didn't come up with the idea first!"
– Hugh Sterbakov
Emmy-nominated writer of Robot Chicken, Freshmen, and City Under the Moon

"The Other Dead finds space to be itself in a genre where most practitioners stick to the tried and true. Original and genuinely scary."
– Mike Carey
Eisner Award-winning writer of Unwritten, Suicide Run, and X-Men

"The Other Dead has restored my faith in a tired sub-genre with a tongue-in-cheek premise, compelling characters, and a devilishly fun world. I'm anxiously awaiting the moment when Obama picks up a shotgun."
– TJ Fixman
Writer of Ratchet & Clank and Legends of the Dark Knight: A Game to Die For

"The basic conceit of this story, that nature, not our neighbors, is the real threat, harkens back to Hitchcock's The Birds and Spielberg's Jaws, only taken to the next level…Just when you thought the zombie genre had been strip mined, The Other Dead proves you wrong."
– Robert Napton
Writer of Battlestar Galactica, Warlord of Mars, and Dark Wraith of Shannara

"A twisted new angle that will resonate far and wide. I really enjoyed it."
– American McGee
Creator of American McGee's Alice

"The Other Dead starts with a great premise, a zombie tale that tugs our emotion and sympathy like no other. The book itself is beautifully executed, with grisly, splattered art and frenetic writing…can't wait for more!"
– Mike Capps
Executive Producer of Gears of War and writer of Gears of War: Barren

"With The Other Dead, Ortega, Digger, and Eastman finally answer the THE zombie genre question–what about the animals!?–with equal parts wit and ferocity."
– Steve Johnson
FX Artist on Ghostbusters, The Abyss, and Spider-Man 2
August 2013 - Exclusive Interviews and Articles on The Other Dead
Check out the links below for exclusive interviews and articles on The Other Dead and the latest scoop on the Obama cover controversy!
8.12.13: Comicbookmonsters.com: http://www.comicmonsters.com/item-7803-The_Other_Dead_Interview_with_Joshua_Ortega.html

8.12.13: Comicbook.com: http://comicbook.com/blog/2013/08/12/exclusive-interview-gears-of-war-and-teenage-mutant-ninja-turtles-unite-for-the-other-dead/

8.12.13: Comicbooktherapy.com: http://www.comicbooktherapy.com/exclusive-joshua-ortega-and-digger-mesch-talk-the-other-dead-157194

7.2.13: Newsarama: http://www.newsarama.com/18253-obama-brandishing-firearms-returns-to-comic-book-cover.html

7.1.13: The Blaze: http://www.theblaze.com/stories/2013/07/01/armed-angry-obama-graces-cover-of-new-comic-slated-for-9-11-13-release/

7.1.13: Bleeding Cool: http://www.bleedingcool.com/2013/07/01/obama-is-packing-for-the-other-deads-911-variant-cover/

5.31.13: CBR: http://www.comicbookresources.com/?page=article&id=45765
05.10.13: MTV covers The Other Dead: http://geek-news.mtv.com/2013/04/28/c2e2-the-other-dead-idw/
Now Available:
((FREQUENCIES)) - A NOVEL
GEARS OF WAR 3: RAAM'S SHADOW (Xbox 360)
NECROMANCER (Top Cow Productions)
GEARS OF WAR, VOL 2: BARREN (DC Comics)
FRANK FRAZETTA'S DEATH DEALER (Image)
GEARS OF WAR, VOL 1: HOLLOW (DC Comics)
OUTLAW TERRITORY, VOL 1 & 2 (Image)
QUEEN SONJA, VOL. 1 (Dynamite Entertainment)
SHADOW COMPLEX (Xbox 360)
GEARS OF WAR 2 (Xbox 360)
BATTLESTAR GALACTICA: CYLON WAR (Dynamite Entertainment)
BLUE DRAGON (Xbox 360)
SAVAGE TALES OF RED SONJA (Dynamite Entertainment)
LOST ODYSSEY (Xbox 360)